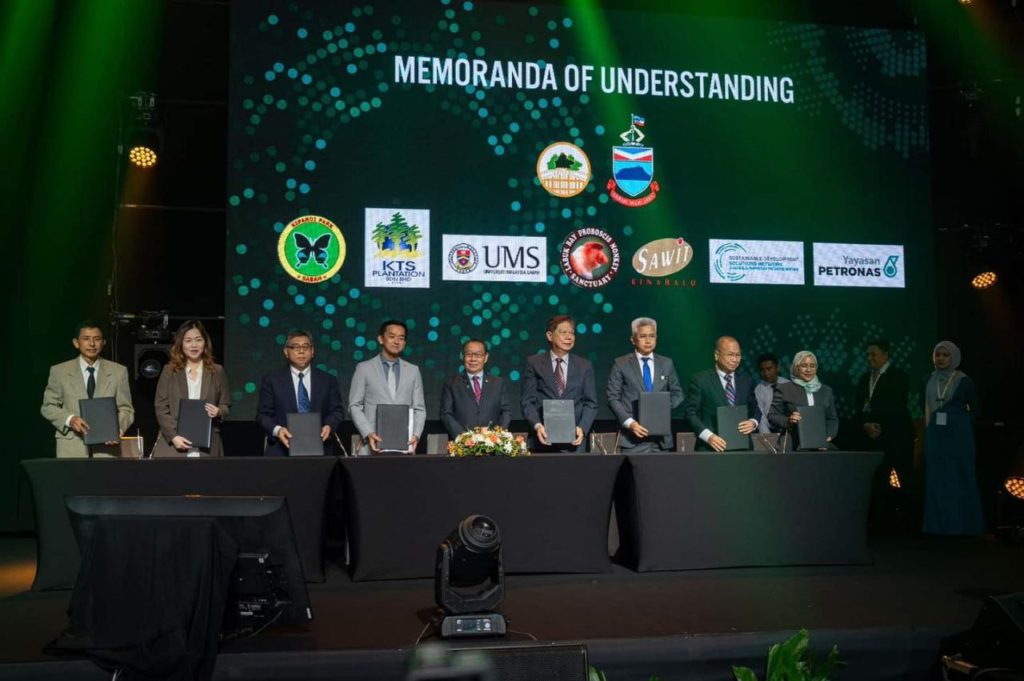 KOTA KINABALU: The renewed Memorandum of Understanding (MoU) on Sustainable Forest Management in Segaliud Lokan Forest Reserve (SLFR) will ensure continued contribution toward sustainable forest management at SLFR through scientific advancements said Ms. Diana Lau, the Director of KTS Plantation (KTSP) during the signing ceremony at the International Conference on Heart of Borneo held at the Sabah International Conference Centre, Kota Kinabalu on August 23rd 2023.
The MoU is a tripartite collaboration between Sabah Forestry Department (SFD), Universiti Malaysia Sabah (UMS) and KTSP signed by Forests Conservator Chief Datuk Frederick Kugan, KTSP Director Ms. Diana Lau and UMS Vice Chancellor Professor Datuk Dr. Kasim Md Mansur. Witness the ceremony is the Deputy Chief Minister II of Sabah, YB Datuk Seri Panglima Dr. Jeffery G. Kitingan.
Diana said the renewal has and would continue to contribute towards more significant scientific advancements and development of effective management strategies in addressing challenges and threats in managing production forest towards sustainability such as at SLFR.
"This collaboration has been ongoing for more eight years and is indeed an achievement. This ceremony signifies the long standing relationship between the research institution, forest industries and the administrator of the forests in Sabah', she said during the signing ceremony at Sabah International Convention Centre here.
"The programme, which key characteristic is to train young local scientists, especially Sabahans, in the tropical environmental research and to contribute to the development of forest rehabilitation, forest management and conservation strategies, has involved more than 15 researchers. Moreover, an estimated 10 papers have been published.
On top of that, the collaborative effort provided opportunities for research and training in rainforest science and eventually nurtured a new generation of expert equipped to tackle the complex issues related to sustainable forest management practices of rainforest, especially in Sabah," she said. This include a total of 17 undergraduates and 5 postgraduates that has completed their respective studies.
"With all these achievements, SLFR has amassed a wealth of crucial scientific information for developing sustainable tourism activities and a non-destructive approach to utilizing the tropical rainforest."
Meanwhile, Diana congratulates Professor Dr. Baba Musta, the Project Leader for leading the publication of a Coffee Table Book on the project carried out under the MoA for the past 4 years. She also hands over financial contribution to Sabah Forestry Department for the implementation of Scientific Expedition 2.0 at Sungai Rawog Conservation Area in SLFR scheduled from September 4th – 15th 2023.