PRODUCTION
KTSP production system is well-planned and organised. The Forest Management Plan (10 years plan) has detailed out the systematic approach on determining the cutting rotations, which is crucial in Sustainable Forest Management (SFM). The cutting rotation and cutting limits were planned according to the forest recovery and growth. Further information for derivation of cutting rotation and Annual Allowable Cut (AAC) are in TIMBER RESOURCE BASE.
The Comprehensive Harvesting Plan (CHP) is a document that integrates those information in compartment level. The CHP will provide comprehensive data on forest roads and harvestable trees, which has been planned by Pre-Harvest Team on ground. Map with 1:5,000 scale will be plotted manually using graph sheet for guidance. A comprehensive digital map would then be produced and verified by SFD through SPKP RIL 01 to ensure the planning met the department's standard. To date, more than 60 CHP have been prepared.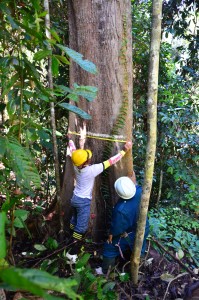 Photo: RIL implementation by KTSP was made even more efficacious with close monitoring by Sabah Forestry Department Officers stationed in SLFR.
RIL is globally accepted as the best way to manage natural forest. KTSP has been practicing RIL since 1998, making it the first private-managed FMU implementing RIL in Sabah. The benefits of RIL include;
Protection of potential crop trees,
Reduction on ground soil compaction,
Watershed protection,
Minimal disturbance on natural wildlife habitat and biodiversity conservation.
To show the commitment to implement RIL and continuously improve on the implementation and monitoring, KTSP had sent many of our workers and staffs to attend the RIL Course by Institution Perhutanan Sabah (IPS). SLFR also had become the training site for the course's practical module.